At Sunworth, our unwavering commitment to solar product research, development, and production has made us a revered high-tech enterprise since our inception in 2008. As a pioneering force in the solar industry, we're excited to introduce our latest breakthrough – the 5KW Battery for Solar Panels, a game-changer in household energy storage.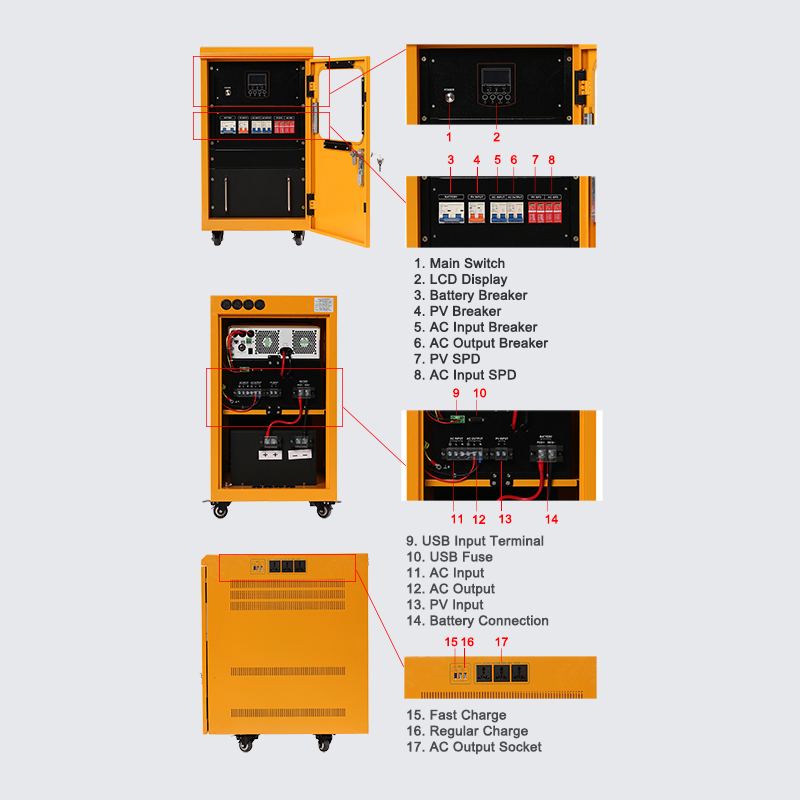 Unveiling the 5KW Battery for Solar Panels: A Revolution in Household Energy
Our brand, Sunworth, echoes excellence and quality, and our 5KW Battery for Solar Panels is no exception. With origins rooted in China, we bring you the pinnacle of off-grid solar power systems that promise not only eco-friendly living but also substantial savings on your energy bills.
Harnessing Power with Purpose: Key Features of the 5KW Battery
Efficiency Redefined: At the heart of the 5KW Battery for Solar Panels lies a LiFePO4 battery, a cutting-edge energy storage solution designed for longevity and performance. Coupled with a state-of-the-art MPPT controller and a pure sine wave inverter, it ensures every ounce of energy is harnessed efficiently.
Versatile Power Delivery: The system boasts multiple output ports, seamlessly catering to diverse power needs. From USB to AC, our solar power system empowers you to charge various devices and keep your household running smoothly.
Plug-and-Play Brilliance: Simplicity meets sophistication in our integrated cabinet design. This all-in-one package not only reduces installation costs but also minimizes the risk of errors, ensuring a hassle-free experience from setup to operation.
Empowering Your Home: Applications of the 5KW Battery
The 5KW Battery for Solar Panels is a versatile energy storage solution that amplifies the way you power your home. While we recommend not exceeding 75% of the rated power for optimal performance, this system can seamlessly support a range of appliances, from essential lighting and communication devices to low-power appliances that keep your daily life on track.
Customization Crafted for You: Our OEM/ODM Expertise
At Sunworth, we understand that every household is unique. That's why we welcome OEM/ODM orders, ensuring that your solar energy solution aligns perfectly with your specific requirements. Whether it's tailoring the system capacity or fine-tuning features, we're here to make your solar dreams a reality.
Conclusion
In conclusion, Sunworth's 5KW Battery for Solar Panels isn't just an energy storage solution – it's a testament to our dedication to innovation, quality, and a greener future. With a warranty that underscores our confidence in the product's durability and performance, you can embark on your journey towards sustainable living with peace of mind.
Join us in revolutionizing the way we harness and store solar energy. Let Sunworth's 5KW Battery illuminate your path to a brighter, more sustainable future.