At Sunworth, we are proud to be a pioneer in the solar energy industry, offering premium solar products and innovative solutions. Our commitment to excellence and sustainable energy solutions has made us a leading name in the field. As a renowned high-tech enterprise, we specialize in the research, development, production, and sale of solar products, with a primary focus on our cutting-edge solar storage systems. With a global footprint spanning over 60 countries and regions, we've successfully powered more than 100,000 families with our reliable solar solutions.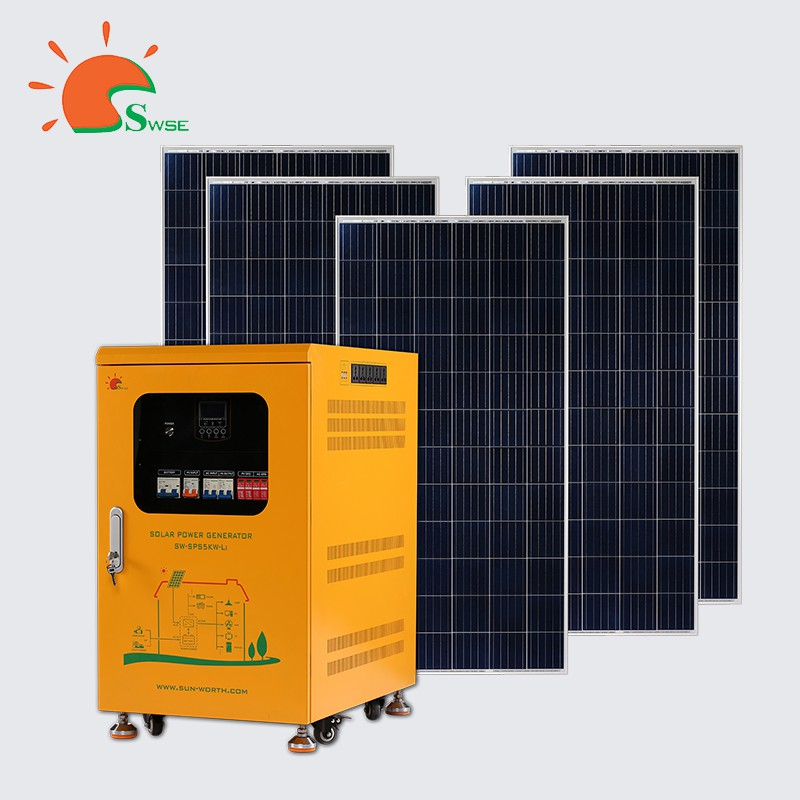 Efficiency Meets Sustainability: Sunworth's Solar Power Storage Systems
Our journey began with a vision to revolutionize the way we harness and utilize solar energy. Sunworth's Solar Power Storage Systems are designed to provide efficient solar energy storage, ensuring a reliable and sustainable solution for powering homes. With our state-of-the-art solar storage technology, we enable homeowners to maximize their energy utilization, thereby ensuring uninterrupted power supply even during low sunlight conditions.
Tailored Solutions for Diverse Energy Needs
At Sunworth, we understand that every household has unique energy requirements. That's why we offer a diverse range of Solar Power Storage Systems, catering to various energy needs and preferences. Our product lineup includes:
SPS with Lithium Battery Series 1KW~10KW: These systems offer exceptional energy storage capacity, utilizing advanced lithium battery technology for extended power supply.
SHS with Lead-acid Battery DC&AC Series: For those seeking both DC and AC energy options, our SHS series with lead-acid batteries ranging from 60W to 320W is a versatile choice.
Efficient Energy Storage for the Modern Home
Our solar storage systems are engineered to meet the energy demands of the modern household. With capacities ranging from 1.25KWh to 20KWh, Sunworth's solutions offer an efficient and sustainable way to store and utilize solar energy. Whether it's to power essential appliances during peak hours or to have a backup power source during outages, our systems ensure your energy needs are met seamlessly.
Certified Excellence: Our Commitment to Quality
Sunworth's dedication to quality and sustainability is reflected in our ISO9001, ISO14001, and ISO45001 certifications. These certifications underscore our adherence to rigorous quality, environmental, and occupational health and safety standards. Additionally, our products carry certifications such as TuV, CE, CB, and ROHS, assuring compliance with industry regulations and standards.
Join the Solar Revolution with Sunworth
In the pursuit of a sustainable future powered by renewable energy, Sunworth remains at the forefront of the solar energy revolution. We take pride in empowering homes across the globe with our advanced Solar Power Storage Systems. With a track record of excellence spanning over a decade, we continue to drive innovation in the solar industry, propelling the world toward a cleaner, greener energy future.
Conclusion
At Sunworth, we believe that solar energy holds the key to a brighter and more sustainable future. Our Solar Power Storage Systems bring this belief to life by offering efficient and reliable solutions for households around the world. With our diverse range of products, commitment to quality, and dedication to driving the renewable energy revolution, Sunworth is your trusted partner in harnessing the power of the sun to power your home.